Featured

Serving
,
Chatham-Kent
,
Ontario
,
Canada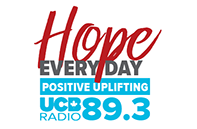 Profile Description:
UCB Radio Canada 89.3 FM We're positive, family-friendly radio, broadcasting to nearly 1 million people throughout Ontario and Alberta, and we are the largest network of Christian Broadcasters in ALL of Canada.  Read More Here
PRODUCTS AND SERVICES
We're more than a radio station.
Our inspiring encouragement booklet, The Word for You Today, is read by over 20,000 people and is one of the fastest-growing devotionals in the WORLD right now… Read More Here
SERVICE AREAS
Throughout Ontario and Alberta
BRENT'S STORY
I tuned into UCB Radio about a month ago and it has been great. I enjoyed the Christmas programming and I look forward to a faith-filled 2019 with you! The music helps me stay centred on Jesus and sometimes I do my exercising to the beat of the songs! My soul and body are getting a great workout! I enjoy the laugh again program and always get a chuckle. Gemma, Sarah, Mark and Rhonda are great to listen to and I enjoy the variety of music. You guys are a blessing and I hope this will encourage you to continue your good work!
JOSH'S STORY
I was led by God to find your radio station last year. Oh, what joy your music and talk shows have brought me!
JULIE'S STORY
I listen to UCB Canada often and find it particularly helpful during troubling times. It's inspirational, actually and I'm so glad I have it!
SUZANNE'S STORY
Thank you UBC Canada. I love listening to God's music. It puts a spring on my feet, a joy in my heart, and a smile on my face. God bless! Much love.
ROSE'S COMMENT
I love listening to UCB Canada. The "blessed" content heard on this radio station is so biblically uplifting for individuals of all age groups. It helps me with my day to day life activities. I truly believe that UCB Canada radio station is a "GOD sent biblical content, which the world needs to hear in these dark, troubled times. GOD bless UCB Radio station and all the people behind the scene.