Featured

1044 Gardiners Rd
Kingston
,
Ontario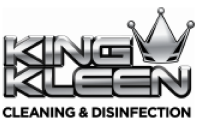 Profile Description:
CLEANING & DISINFECTION PROFESSIONALS, AT YOUR SERVICE!
Do you love having tidy spaces, but hate the hassle of cleaning? We get it, and we're here to help. 
Our mission at
King Kleen
is to revolutionize Canada's cleaning industry by thoroughly training and equipping our team members to bring a consistent standard of cleaning excellence. We put forth our best service in all of our commitments, bringing joy to people as we shine and their newly cleaned spaces shine even brighter!
As a privately owned,
founder-led
company, we're able to work fast and respond to our customers' needs. We invest in training our people, prioritizing customer support, and serving our clients needs, no matter what they are.
We understand that in order for you to have a highly productive and efficient workspace you need it to be a clean, safe and refreshing atmosphere….partnering with King Kleen makes that possible!
Office Cleaning
Retail Cleaning
Daycares & Schools
Covid 19 Cleaning Disinfection
SERVICE AREA
Seeley's Bay
Smiths Falls
Gananoque
Belleville
Kingston
Frontenac Area
Quinte Area
PARTNERSHIPS
WHY BECOME A KING KLEEN CLEANING PARTNER?
HIGHER PAY! Accept available jobs that fit your lifestyle!
GROW YOUR INCOME AND PERSONAL CUSTOMER BASE without spending a dime on sales, marketing and social media!
PARTNER with a world class cleaning & disinfection service brand!
Receive TRAINING AND CERTIFICATION in cleaning and disinfection standards using Health Canada guidelines!
Utilize PROVEN CLEANING MANAGEMENT SYSTEMS for servicing customers!
Dominions of Law:
"Let your light so SHINE before men, that they may see your good works and glorify your Father in heaven." ‭‭Matthew‬ ‭5:16‬ ALWAYS SHINING!
Sharon Ruttan recommends King Kleen.
I had them come clean a house I was moving into, they were able to get it looking and feeling clean in a short amount of time. Crew was friendly and showed up when scheduled. The business was also very responsive answering my inquiries on the weekend. Would use this company again.
Christina Moeys recommends King Kleen.
I had King Kleen do some cleaning for me at a new home I had purchased that was pretty grungy. Chris and Taylor were great! Chris even provided me tips on how to clean some tough marks on the walls and floor. I will definitely use this company again when the time comes!