704 Wallbridge Loyalist Rd
,
Quinte West
,
Ontario
,
Canada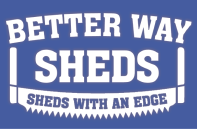 Profile Description:
STORAGE SHEDS WITH AN EDGE
We have high-quality garages, sheds, cabins, gazebos, chicken coops, kennels and more! Our customers use garages to store vehicles, as home workshops, and as drive in man-caves or she-sheds.
Our storage sheds are perfect for your lawn tractor, garden tools, bicycles, snowblowers and winter tires. No matter the season, your tools will be safe and sound. Not to mention, you can completely customize your space to truly make it your own. We firmly believe that no piece of property is too small or insignificant to be creative with.
At Better Way Sheds, we strive to provide you with
PRODUCTS AND STORAGE SERVICES
Sheds
Garages
Hunting Blinds
Cabins
Chicken Coups
Gazebos
SERVICE AREAS
Bath, ON
Stirling, ON
Belleville, ON
Brighton, ON
Napanee, ON
Tamworth, ON
Shannonville, ON
Deseronto, ON
Carrying Place, ON
Prince Edward County, ON
Picton, ON
Campbellford, ON
Madoc, ON
Tweed, ON
Colborne, ON
Grafton, ON
Cobourg, ON
Bancroft, ON
Lake Saint Peter, ON
Maynooth, ON
Gananoque, ON
Kingston, ON
Inverary, ON
Battersea, ON
Harrowsmith, ON
Howe Island, ON
Wolfe Island, ON
Seeley's Bay, ON
Elgin, ON
Norwood, ON
Trent Hills, ON
Peterborough, ON
Bobcaygeon, ON
Lakefield, ON
Port Hope, ON
Sharbot Lake, ON
Wellington, ON
Frankford, ON
"Recently took delivery of our new Quaker-style 10x16 shed, and we are very happy with our purchase. The build quality of the shed is excellent, and promises to serve our needs well for many years to come. In terms of sales service, Jesse Macdonald was very easy to work with at every step of the process, from shed selection, to purchase, to delivery. I would happily recommend Better Way Sheds.
Bradley R. Patterson recommends Better Way Sheds-Foxboro.
March 3
·
We purchased a shed last year that was delivered just before Christmas. I absolutely love it. Great design and workmanship at a fair price. The shed has all the storage I needed and they worked with my custom design request to come up with a functional and great looking shed. I would hire them again.